Daily Dish the Nugget Markets blog
Preview Article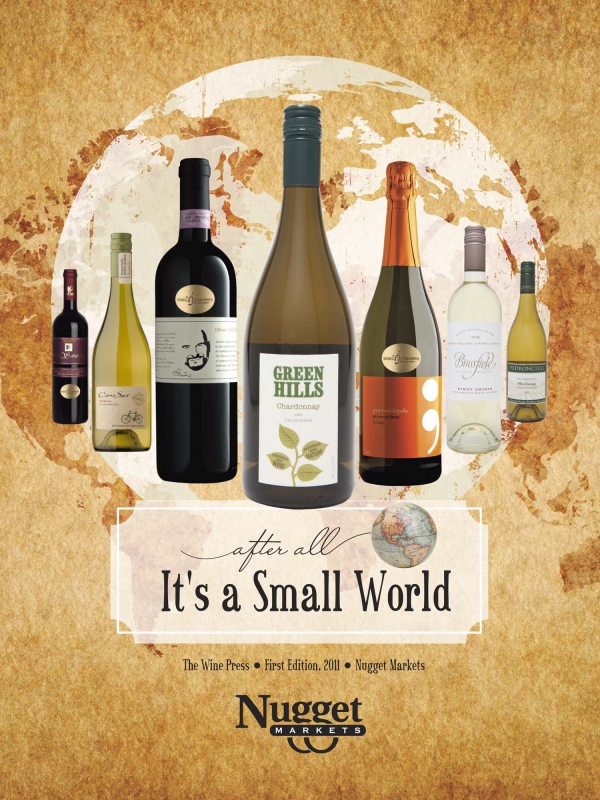 After All, It's a Small World
Small World – Small Vineyards
Small Vineyards is the name of a new supplier to our stores — one that has a special way of going to market. They deal only with small artisanal producers, mostly from Italy, namely families whose lives' works are in the bottles and whose names are on them.
Normally, these wines would not get imported, because there is not enough volume produced to make a "brand". These wines are all hand-harvested, family-owned and earth-friendly. We have expanded on that theme to bring you the wines in this issue.
Now what do "earth-friendly" and "sustainable" mean, anyway? In 1989, the American Agronomy Society adopted the following definition for sustainable agriculture: "A sustainable agriculture is one that, over the long term, enhances environmental quality and the resource base on which agriculture depends; provides for basic human food and fiber needs; is economically viable; and enhances the quality of life for farmers and society as a whole."
This is fairly broad, but all of the wineries we are featuring in this issue work toward this goal from various angles. Some, like Benziger, are Demeter-certified Biodynamic. Others, like Green Hills, abide by the Lodi Rules on Sustainability and are solar-powered. To save paper and glue residue, Unbelievable Wines have no label.
These are smaller operations that are collectively making a big impact on the environment. Oh yes, and by the way, these wines are good — and good values to boot. So you can have a nice bottle of wine and support those wineries that are doing the right things to ensure that future generations can do the same.
Hank Beal, Director of Adult Beverages