Recipe Archive Nugget Markets Signature Recipes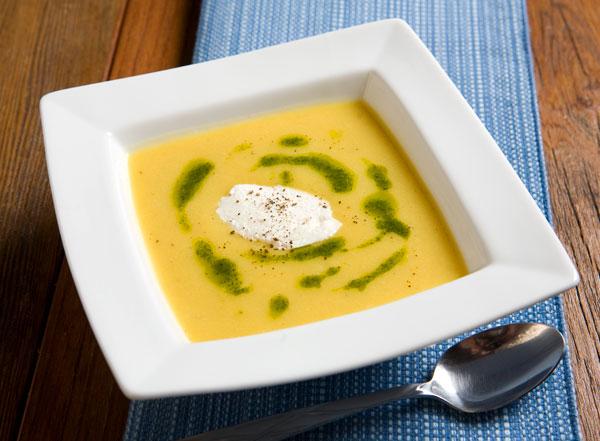 Crooked Neck Squash Soup with Chevre & Tarragon Oil
Prep time:

20 minutes

Cook time:

20-25 minutes
Yield:

Serves 4-5

Difficulty:

1 out of 5
The taste of California Farmers Markets in one simple squash soup – perfect for a light bite on the patio with a cool glass of medium-bodied white wine, such as Chardonnay, Chenin Blanc or Pinot Gris, and the company of good friends.
Ingredients
Soup:
2½ lbs. crooked neck squash (may substitute sunburst, patty pan or zucchini)
1 quart chicken or vegetable broth
2 medium-sized garlic cloves
Kosher or sea salt and cracked black pepper to taste
Tarragon Oil:
¾ cup fresh tarragon leaves (about 1 bunch)
¼ cup fresh dill
1 tablespoon lemon juice
¾ cup olive oil
½ cup salad oil
½ teaspoon kosher or sea salt
Reserve a few leaves of tarragon for garnish
4 oz. fresh Chevre, crumbled
Preparation
Remove tips from squash, chop coarse and combine in medium-sized pot with chicken broth and garlic cloves. Bring to a boil, then reduce heat and gently simmer 20-25 minutes until squash is very tender. Transfer mixture to blender (cover lid with a clean kitchen towel to avoid being burned by hot soup); purée until smooth. Return soup to stovetop over very low heat. Season to taste with salt and pepper.
While squash is simmering, combine tarragon oil ingredients in blender and purée for 1 minute; transfer to a small bowl or squeeze bottle. Extra oil will keep in refrigerator for up to 3 days. Use it as a garnish for grilled seafood or create a light and delicious appetizer by pouring oil directly over 8 oz. of fresh Chevre or farmers cheese. Serve cheese with crackers or a fresh sliced Rustic Baguette from Nugget Market.
Divide soup evenly between bowls; drizzle tarragon oil in a circular pattern, finishing each bowl with 1½ tablespoons of Chevre dropped into the center. Garnish with reserved tarragon leaves and serve!