Daily Dish the Nugget Markets blog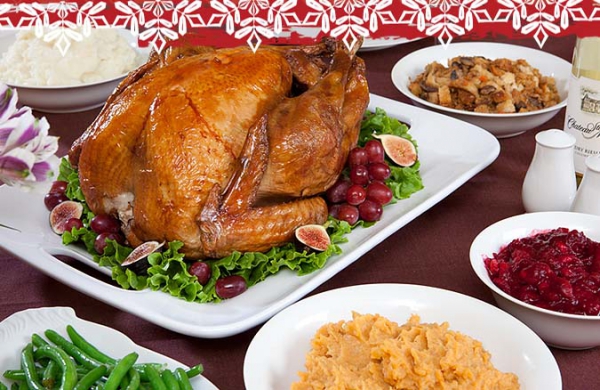 Stress-Free Holiday: Nugget's Easy Complete Meal
For the first time ever, Nugget Markets is offering a whole turkey in its Holiday Meal! This delicious turkey, from Zacky Farms in Fresno, comes fully cooked. Our guests can have the beautiful presentation of the whole turkey, with the convenience of a fully prepared item.
The Holiday Meal serves eight people, and every meal includes:
Garlic Mashed Potatoes made with cream, butter and roasted garlic
Turkey Gravy hand-made every step of the way, with sage and thyme
Green Beans dressed with extra-virgin olive oil
Forest Mushroom and Walnut Stuffing with four types of mushrooms and vegetable stock for added flavor
Gingered Sweet Potatoes, a modern twist on the holiday classic
Brandied Cranberries with a hint of brandy and orange with walnuts for crunch
You can also opt to add a pie and a dozen rolls on to your meal for an additional charge. Stop by any Nugget Market location and ask a deli associate for more information, or you can order online at www.nuggetmarket.com/holidaymeal.
Please place your holiday meal orders by Monday, November 21st, for Thanksgiving, and by Wednesday, December 21st, for Christmas.
Nugget's Complete Holiday Meal Options
Option 1 (Serves 8): California-Grown Whole Cooked Turkey (12-14 lbs) with Turkey Gravy, $99.99
Option 2 (Serves 4): Chef-prepared Turkey Breast (3 lbs.) with Turkey Gravy, $59.99
Option 3 (Serves 8): Chef-prepared Ham with a Brown Sugar and Mustard Glaze, $99.99