Daily Dish the Nugget Markets blog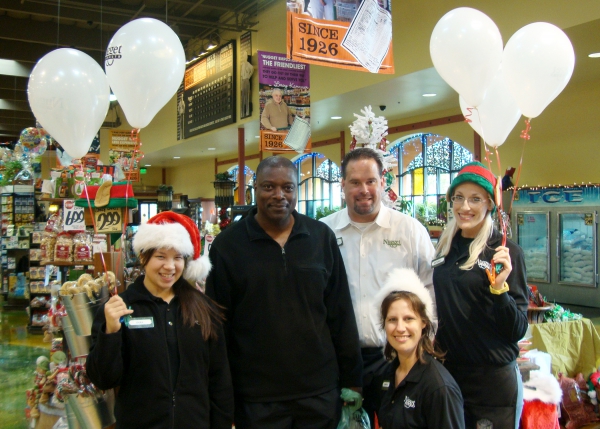 Congrats to Our Thanksgiving Feast Winners
In the spirit of giving, Nugget Markets' kitchens prepared and gave away 20 complete holiday meals this Thanksgiving! Each feast fed up to eight people, and included the winner's choice of either a Whole Cooked Turkey with Turkey Gravy -or- Chef-Prepared Ham with a Brown Sugar and Mustard Glaze along with Garlic Mashed Potatoes, Forest Mushroom and Walnut Stuffing, Gingered Sweet Potatoes, Green Beans and Brandied Cranberries.

"As one of the very lucky winners of a Thanksgiving Dinner, we want to say a BIG thank you for a delicious meal. We picked it up in West Sacramento and everyone enjoyed it so much. You helped us have a memorable Thanksgiving". - Alma Sweet

Congratulations to our lucky Thanksgiving Feast winners:

Ricky Barbee- Woodland
Joy Eagan- Woodland
Jennifer Shields- Davis, Mace
Maria Garcia- Davis, Mace
Jonathan Foster- Sacramento
Heidi Ferrell- Sacramento
Lillian Wheeler- Sacramento
Ron Smith- West Sacramento
Trish Rosenquist- West Sacramento
Michael Ryan- West Sacramento
Stacy Hall- West Sacramento
Daniel Fox- Roseville
Debra Donnelly- Roseville
Alma Sweet- Roseville
James Harris- Elk Grove
Teresa Jensen- El Dorado Hills
Kapil Bhargava- El Dorado Hills
Janet Farafontoff- El Dorado Hills
Kelsey Brust- Davis, Covell
Mandy Chu- Davis, Covell

In celebration of the holiday season, we will be giving away an additional 20 complete holiday meals! Enter in-store or online from November 28 - December 16 for your chance to win a delicious Holiday Feast courtesy of Nugget Markets!