Daily Dish the Nugget Markets blog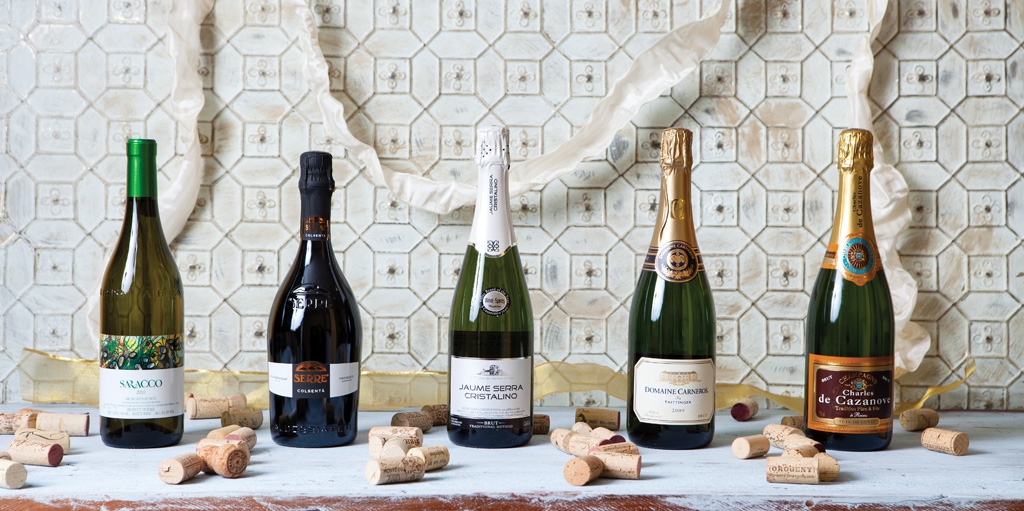 Waiting for that special occasion to crack open a bottle of bubbly? Well, get crackin' because a bottle of sparkling wine is always in season! Sparkling wines cleanse the palate and work beautifully with an amazing variety of foods year 'round. Here's a sampling of some of our favorite sparkling gems. Ho! Ho! Ho!
Saracco Moscato di Asti—Italy
Moscatos are still hot, but let's go to the source of arguably the best Moscato in the world: Piedmonte, Italy. Here, 4th Generation winemaker Paolo Saracco is considered by many to be the reference point for the best Moscato d' Asti. He uses a combination of high technology and years of experience in the winery and with his vineyards to get it just right. When the alcohol content reaches 5.5%, he achieves a perfect balance among acidity, sugars and alcohol. Enjoy this great wine on its own or with a fruit plate.
Serre Prosecco DOCG—Italy
This is one of our favorite proseccos, and the only one on our shelf that carries the DOCG seal, meaning it's from the region's heart—the area between the towns of Valdobbiadene and Conegliano. Of higher quality than most proseccos on the market, Serre Prosecco DOCG has flower and fruit notes, is crisp and refreshing, but has a little more body than most proseccos, yet remains low in alcohol. Whether starting a celebration or just relaxing and unwinding, this prosecco is a great choice.
Jaume Serra Cristalino Brut Cava—Spain
How they can produce such a wonderful wine done in the traditional method (fermented and aged in the same bottle) at this price, we may never know. It's clean and delicate, with citrus and green apple aromas and flavor with good minerality. One of our best values in sparkling wines, serve it with soft cheeses like brie or alongside grilled chicken or prawns.
Domaine Carneros Brut—Napa, California
Vintage dated each year (not many California wines are vintage dated), this wine is aged for three years before release to enhance its complexity. An age–worthy wine made from certified organic pinot noir and chardonnay grapes, this is a "bridge" wine between California and France (owned by the famous champagne house of Tattinger). It's the perfect balance of red fruits from the pinot and citrus from the chardonnay, combined with a creamy finish.
Champagne Charles de Cazanove—France
This year we're excited to feature a new champagne for the holidays: Champagne Charles de Cazanove, Tradition Brut. Founded in 1811 and one of the largest landowners in Champagne, they produce more than 3 million bottles per year. While not well–known in the US, these are authentic wines from a great producer and a noble region. This champagne offers a great value for "real" champagne, composed of 60% pinot noir, 30% pinot meunier and 10% chardonnay. You'll enjoy a fruity nose with lots of citrus, but also the nice toasty, nuttiness that you expect from champagne. Wine Spectator liked it, too, and gave it 92 points.