Specialty Grocery
Nugget Markets is proud to offer you the lowest prices on all of your staple grocery needs, as well as a wide selection of hard-to-find specialty grocery items.
To make these specialty items easier to find, we integrate them into our regular grocery aisles. You'll find organic granola on the cereal aisle, gourmet pasta sauce next to the conventional varieties, and local organic milk in the dairy case.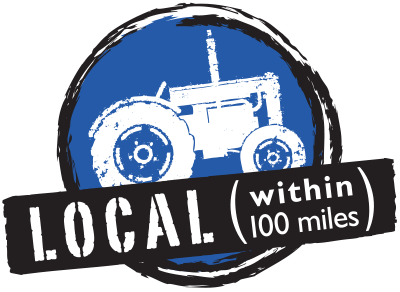 Local Love
DIY Upcyled Pallet Garden

Oct 2, 2013

This past weekend we were thrilled to participate in the first Farm to Fork Festival in Sacramento. Part of our display included some very fun pallet gardens filled with edible herbs, flowers and ornamental peppers. They were a huge hit, so we wanted to share how to create this beautiful, decorative and delicious wall of edible art. Follow our simple tutorial to give a pallet a second life, creating a palette of colors for your palate.

Continue reading …
Haps on the End Caps …
Dec 5, 2013

Buttery, brown–sugary, and beautiful, pecan pie is a Southern specialty and a hands–down favorite holiday treat. Rosa's makes pecan–pie baking a snap with Rosa's Pecan Pie In–a–Jar, the perfect way to quickly make a delicious holiday pecan pie with all the home–made taste.

Continue reading …

Dec 4, 2013

Start a holiday–baking tradition now and for generations to come with Old River Road's Copper Cookie Cutters. With that wonderful old–fashioned feel, these beautiful heirloom–quality, 100% copper cookie cutters are sturdy yet intricate, and they're made to last for many holidays to come.

Continue reading …

Dec 1, 2013

Doesn't a piping hot mug of cocoa sound so good right now? One of our favorites is the hot cocoa mix made by Lake Champlain Chocolates—it's super rich and decadent, just like a good cup of hot chocolate should be!

Continue reading …
Special Diets
At Nugget Markets, we understand that shopping while accommodating a special dietary need can be challenging and even frustrating. In order to offer a helping hand when shopping for specific food categories and special diets, we have created the following shelf tags to help you find products more easily in our stores.
Local

Products grown or produced within 100 miles of our home offices in Woodland, California.

Organic

Products certified by the USDA as either "100% organic" or "organic," which means that 95% or more of ingredients are organic certified.

California-Grown

Products grown or produced outside the 100 mile radius of our local products, but still within the borders of our state of California.

Gluten Free

Products that contain no wheat gluten.*

Imported

Products produced outside the United States.

Fair Trade

Products in compliance with provisional, international Fair Trade guidelines.

Heart Healthy

Products certified by the American Heart Association's Heart Check Program which sets guidelines for saturated fat and cholesterol content.*

Low Sodium

Items that meet the FDA standard for low-sodium products, which is 140 milligrams or less of sodium per standard serving of food.*

Dairy Free

Products that contain no dairy.*

Sugar Free

Products that contain no sugar.*
Product Lists
Need a little more assistance? We also keep updated, printable product lists for each special diet category in every store.
Visit our complete special diets product listing page to download and print the lists for your store.
* These special diet indicators are not intended to be used as or to replace medical advice. Please remember to always read product labels, as ingredients and manufacturers may change.