Specialty Grocery
Nugget Markets is proud to offer you the lowest prices on all of your staple grocery needs, as well as a wide selection of hard-to-find specialty grocery items.
To make these specialty items easier to find, we integrate them into our regular grocery aisles. You'll find organic granola on the cereal aisle, gourmet pasta sauce next to the conventional varieties, and local organic milk in the dairy case.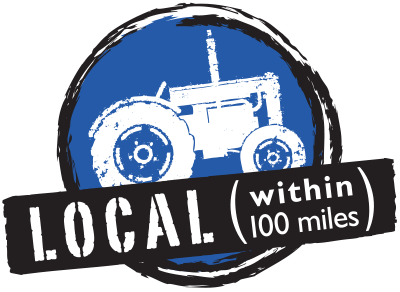 Local Love
July 1, 2015

What we call a Seedless Black Watermelon (because of its extremely dark green skin) is actually properly known as an Imagination Melon. Whatever its name, we love this melon for its great consistency and flavor. And we really love the fact that they are locally grown, just down the street from our West Sacramento store. At the start of spring, Dave Vierra begins planting his Imagination Melons in preparation for the summer season. Dave's love of farming was evident when, at 13 years old, he planted his first pumpkin patch, and by the time he was 18, Vierra farms was born. Fast–forward to today and Vierra now farms over 800 acres of rich local soil, right in our own backyard.

Continue reading …
Haps on the End Caps …
June 21, 2015

Happy Father's Day!

Celebrate Dad this Father's Day with a hoppier happy hour and a big bowl of Clover Hoppy Hour ice cream! Bear Republic's artisan ale is blended with Clover's organic cream and milk, from humane-certified cows, to make this game changer ice cream. We at Nugget Markets just can't get enough of this Hoppy Hour, and will surely be sharing a bowl of it with Pops this Father's Day!

Continue reading …

June 16, 2015

Looking for a way to transport your local brew? Support local breweries and be sustainable with True Fabrication's Drink Local Stainless Steel Growler, available at select Nugget Markets locations. This sustainable and long lasting growler can help all brew lovers fill, transport, and enjoy a fresh brew anywhere. Just tip and fill at a 45-degree angle and you'll be on your way to enjoying your favorite local brew!

Continue reading …

June 12, 2015

Sriracha & Lime Pretzel Crisps. These bold and spicy flat-baked pretzel crackers offer the zesty flavor of sriracha and the refreshing taste of lime! They are exceptionally thin and crisp, but also packed with flavor and crunch. We love to pair them with sliced deli meats, but they are also very dippable and, of course, delicious on their own.

Continue reading …
Special Products
At Nugget Markets, we strive to bring you a wide variety of local and organic products, as well as items suitable for special dietary and lifestyle needs. To assist you while shopping for specific food categories, we have created a series of icons to help you identify these products on our store shelves, in our ads, and in our publications.
Visit our lifestyle page to learn more.
* These special diet indicators are not intended to be used as or to replace medical advice. Please remember to always read product labels, as ingredients and manufacturers may change.