Newsroom resources for the news media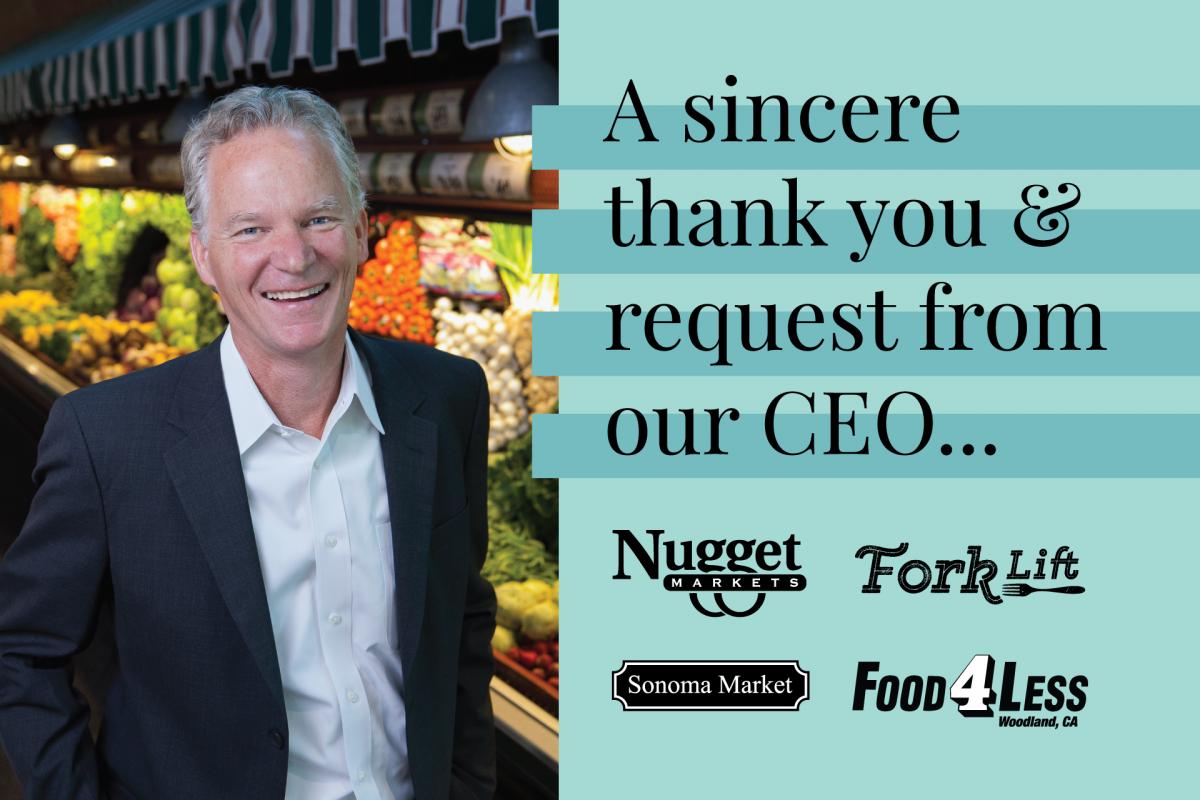 Media Alert
A Sincere Thank You & Request from Our CEO
Dear Nugget Markets guests,
Once again, I would like to thank you all for your patronage, trust and patience during these trying times. I am so proud of how our amazing associates at Nugget Markets and our sister stores, Sonoma Market, Fork Lift by Nugget Markets and Food 4 Less Woodland, have all rallied through these challenges and have put their families and friends second behind taking care of you and the stores. I truly am blessed to have a world-class team!
That said, I have a few requests that I would like to ask of all of you.
First, for two months the government has been advising us directly to not wear masks, as it could make the situation worse. As you likely know, now the CDC recommends that all citizens wear masks. This directive is in hopes that the mask wearers spread fewer germs to the general population. We have 25,000 masks arriving Monday (with more arriving later in the week), but we sure could use some now! So, my ask is, if by chance you have any extra masks, could you please drop some off at one of our stores the next time you come shopping?
My second request is centered on shopping. I ask that all guests please follow all social distancing guidelines! This includes giving our associates space when they're stocking, cleaning or otherwise doing their jobs. I also request that only one family member shops for the household. This request is for everyone's safety. As tough as it is, I also ask that you please limit conversations and interactions with neighbors and associates while you shop. All retailers will be limiting shoppers in their establishments and the quicker you get in and out of the store, the safer you will be and the more guests we can serve.
Lastly, I have a very special request. Can everyone please remember that all Nugget Markets associates, as well as all other essential retailers, are frontline first responders and show them the love and respect they so deserve? It breaks my heart when someone "goes off" on one of my Nugget Markets family members, and I have even asked a few not to shop with us because of it. Please remember, we are doing everything physically possible to keep our stores stocked, clean and as efficient as possible. Thank you for your understanding, and for the love directed to our associates and all first responders!
One more note: we will be closing Easter Sunday so that all of our associates may spend the day with their immediate family and get some well-deserved rest. Thank you all for your trust and understanding.
Sincerely,
Eric Stille
President/CEO
Nugget Market, Inc.
Press Contact
Nugget Market, Inc.
Media Relations

:

media@nuggetmarket.com