Since 1926, Nugget Markets has been committed to supporting local non-profits and causes in our community through donations, sponsorships, and participation in local and regional events. We also participate in Scrip and eScrip programs in the Sacramento and Marin County areas. To direct our involvement and giving, we focus on supporting non-profits and educational institutions that are located in our immediate communities. The primary causes that we focus on are:
Education and youth
Health, wellness and nutrition education
Elder care and support of those in need
Sustainability and agricultural preservation
Public safety (law enforcement and fire)
To request a donation or sponsorship/participation in an event, please download and complete the form, below. Completed form should be emailed to community@nuggetmarket.com, along with a written description of your organization's mission, and an explanation of your event on your organization's letterhead (if applicable). If your organization supports a community within five miles of a specific store, you may instead deliver your request to your local store director.
Please submit all requests at least 4 to 6 weeks prior to your event, and please note that only completed forms will be reviewed. Due to the high volume of requests, we are unable to support:
Individuals or teams
Political candidates or causes
For-profit and third-party organizations—we give directly to non-profits
We're excited to partner with you in supporting local nonprofits and youth educational organizations through our Community Scrip Program.
This summer, we will transition our Marin County stores to the same in-house Community Scrip Program our Greater Sacramento Valley stores have known for years. This program has zero administrative fees, which means beneficiary organizations will receive more than a 10% boost in proceeds by participating in our new program.
To get started with our Community Scrip Program:
Sign up and register. It's free!
Shop at Nugget Markets, present your community scrip card prior to each transaction and earn up to 4% of your monthly purchases for your chosen schools or nonprofits.
Marin County guests: To learn more about or access your account for our eScrip program, which will end July 31, 2018, please visit our eScrip page.
---
Store Tours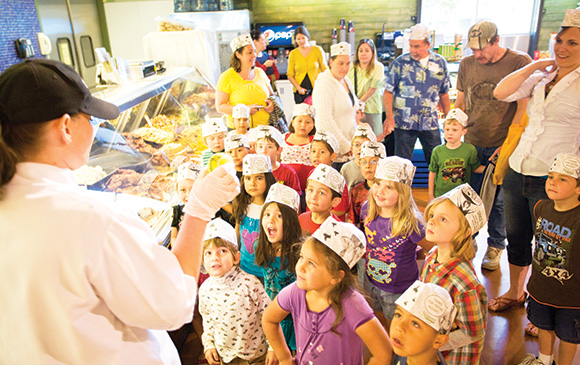 We love connecting with local schools and youth organizations through store tours, which are educational, interactive, and also free of charge! Tours include a visit to every department in our store, where kids get to see and learn behind-the-scenes secrets, like how our bakers make our artisan breads, how our in-house chefs prepare our pizzas, and how our butchers handcraft our sausage.
For more information or to schedule a tour, please contact your local Nugget Markets location.
Upcoming Community Events
From to

Location: West Sacramento
Neighborhood news and community involvement
Join thousands of moms, daughters, sisters, girlfriends, grandmas and other amazing ladies in celebrating womankind at the 14th annual Kaiser Permanente Women's Fitness Festival! Produced by Fleet Feet Sports Sacramento, the Women's Fitness Festival benefits Weave, their fight against sexual assault, domestic violence and sex trafficking, and their support of survivors. Nugget Markets is proud to sponsor this one-of-a-kind event which will kick off at 7:30 a.m. on Sunday, June 3, 2018, at the corner of L St. and 9th St. in Sacramento.

With wildfires raging throughout Sonoma County and beyond, our hearts are breaking for all those who have lost so much. We're doing everything we can to help support those affected by these devastating fires, including delivering supplies to meet immediate needs and matching monetary donations made in store up to $10,000. We're all in this together!

At Nugget Markets, we firmly believe in supporting our communities near and far in whatever ways we can. To help those weathering the storm in Texas, we will be matching in-store donations up to $5,000 through September 18, 2017. All guest donations and matching funds will be forwarded directly to the American Red Cross.