Since 1926, Nugget Markets has been committed to supporting local non-profits and causes in our community through donations, sponsorships, and participation in local and regional events. We also participate in Scrip and eScrip programs in the Sacramento and Marin County areas. To direct our involvement and giving, we focus on supporting non-profits and educational institutions that are located in our immediate communities. The primary causes that we focus on are:
Education and youth
Health, wellness and nutrition education
Elder care and support of those in need
Sustainability and agricultural preservation
Public safety (law enforcement and fire)
To request a donation or sponsorship/participation in an event, please download and complete the form, below. Completed form should be emailed to community@nuggetmarket.com, along with a written description of your organization's mission, and an explanation of your event on your organization's letterhead (if applicable). If your organization supports a community within five miles of a specific store, you may instead deliver your request to your local store director.
Please submit all requests at least 4 to 6 weeks prior to your event, and please note that only completed forms will be reviewed. Due to the high volume of requests, we are unable to support:
Individuals or teams
Political candidates or causes
For-profit and third-party organizations—we give directly to non-profits
We are excited to partner with you in supporting non-profits and educational organizations in our community. We offer two Scrip Programs, based on where you live and shop:
Sacramento Valley Stores
Learn more about our Scrip program:
Marin County Stores
Learn more about our eScrip program:
---
Store Tours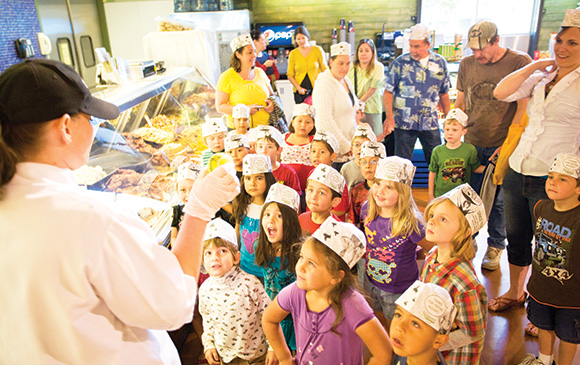 We love connecting with local schools and youth organizations through store tours, which are educational, interactive, and also free of charge! Tours include a visit to every department in our store, where kids get to see and learn behind-the-scenes secrets, like how our bakers make our artisan breads, how our in-house chefs prepare our pizzas, and how our butchers handcraft our sausage.
For more information or to schedule a tour, please contact your local Nugget Markets location.
Upcoming Community Events
Neighborhood news and community involvement
As you may already know, here at Nugget Markets, we're committed to supporting local nonprofits and causes right here in our community. One of our fantastic community partners is Pride Industries Foundation, based right down the road in Roseville, California

We love celebrating the good times, but the truth of the matter is sometimes times are tough. As part of being a family business, it's hugely important to us at Nugget Markets that we do what we can to help children and families in times of need.

School's back in session and we're excited to ring in the new school year by continuing to support our local students, teachers, schools and educational foundations! Since 1926, Nugget Markets has been committed to supporting our community, with a special focus on youth education and empowerment.