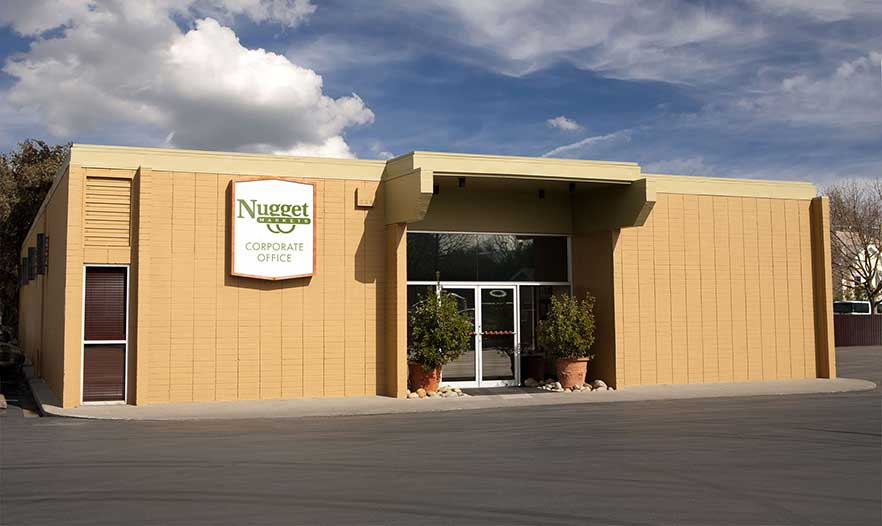 Corporate Office
Should you have any questions, feel free to contact our Corporate Office, which is open 8 a.m. to 5 p.m., Monday through Friday.
Phone:
(530) 669-3300
Fax:
(530) 662-0929
Email:
comments@nuggetmarket.com
Hours:
8 a.m.–5 p.m. Monday–Friday
Address:
168 Court St.
Woodland, CA 95695
Catering in Marin County
Nugget Markets offers catering services in the Marin County area*, with foods prepared by in-house chefs. For assistance, email catering@nuggetmarket.com or call (415) 450-5109
*At this time we do not offer catering services at our Sacramento area stores.
New Store Request
We often receive requests from guests who would like us to bring a Nugget Markets store to their neighborhood. If you'd like to see a new store location near you, please let us know!
Email us your name and zip code
Thank you for inviting us to your community.
Contact Our Stores
For inquiries about experiences, products and services related to our stores, feel free to contact your local Nugget Markets store:
Corte Madera

(415) 945-8855

Davis, Covell

(530) 750-3800

Davis, Mace

(530) 753-6690

El Dorado Hills

(916) 933-1433

Elk Grove

(916) 226-2626

Novato

(415) 883-4600

Roseville

(916) 746-7799

Sacramento, Florin

(916) 395-2875

Tiburon

(415) 388-2770

Vacaville

(707) 469-6900

West Sacramento

(916) 375-8700

Woodland

(530) 662-5479