Newsroom resources for the news media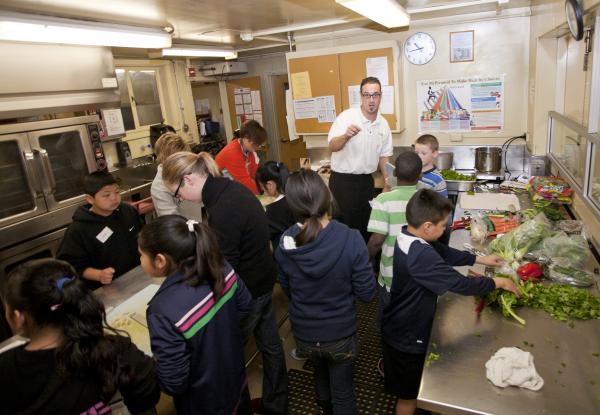 Press Release
Nugget Markets Supports Local 4th Graders Through the Saturday Café Restaurant Program
Nugget Markets donates goods and chef services to help Oak Ridge Elementary kids learn about healthy foods and restaurant operations.
Woodland, Calif. – Nugget Markets supports the Saturday Café educational program at Sacramento's Oak Ridge Elementary school, with healthy, fresh food donations and chef participation. Starting in February through April, fourth grade students learn about every facet of the restaurant business at each Saturday Café event, culminating in the Five-Star Restaurant, a special evening on April 5. At the Five-Star Restaurant event, the students plan, create, and serve an elegant springtime meal in their own restaurant setting at Oak Ridge School.
From interior design planning, advertising, and ticket sales to cooking and managing costs and profits, the team of entrepreneurial students are guided and mentored at each Saturday Café event by professionals in the restaurant industry as well as the public relations, accounting, financial management, and culinary arts fields. Each Saturday Café event features a different theme, such as vegetarian/vegan cooking and cuisine from around the globe.
"It's a real thrill to be a part of the Saturday Café program," says Jeff Clark, executive chef of Nugget Markets. "We're delighted to support this unique organization, and it's a great way to spend a Saturday – teaching and cooking with such a terrific, enthusiastic group of kids."
"Upon completing the program, the kids then decide how to spend the profits earned from their business, on adventure trips throughout California," says Stella Ruiz, director of the Saturday Café and Five-Star Restaurant program. "It's a rewarding experience for these young, hard-working entrepreneurs."
Press Contact
Nugget Market, Inc.
Media Relations

:

media@nuggetmarket.com