Newsroom resources for the news media
Preview Article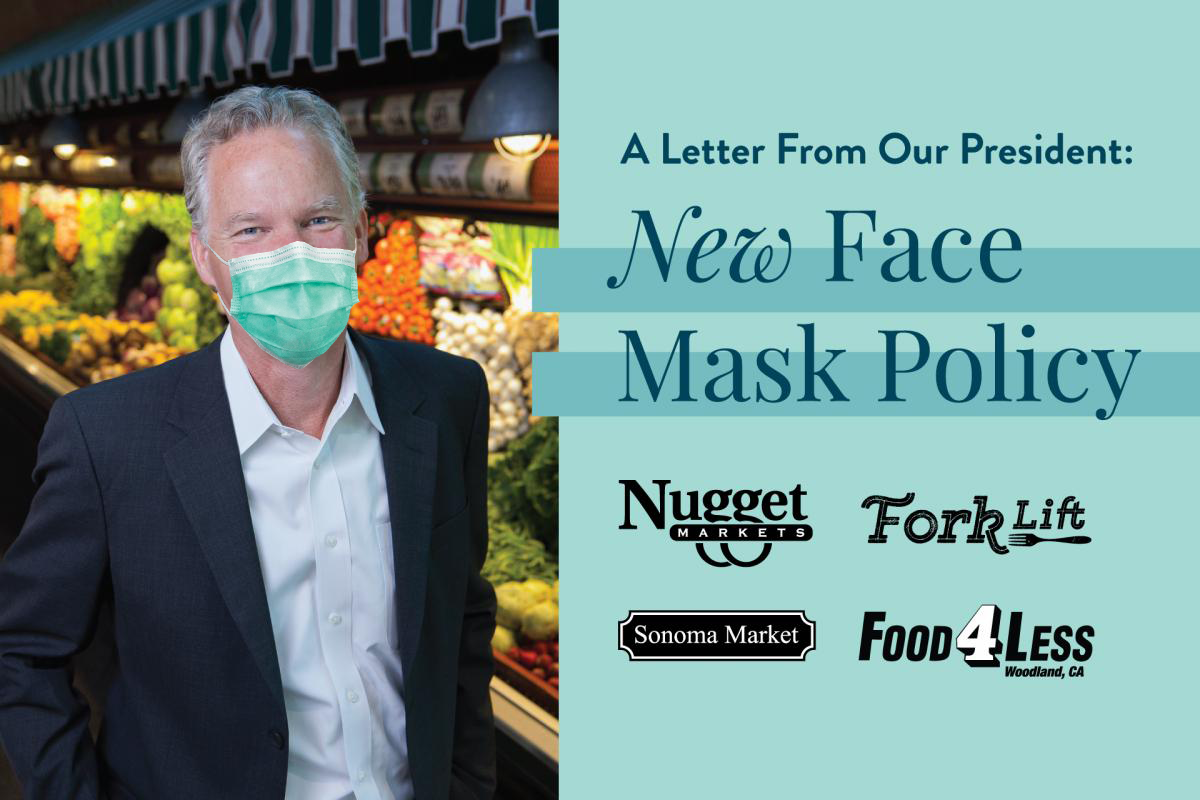 Media Alert
A Letter From Our President: New Face Mask Policy
Dear Nugget Markets guests,
I would like to wish everyone a happy Easter and a wonderful Passover this coming week. Times are definitely a challenge right now, but that's what makes family so important, and our extended Nugget Markets family wishes you and your loved ones the very best! Just a reminder, we will be closed Easter Sunday, April 12, so our associates may spend the day with their immediate family and get some well-deserved rest.
I have a few updates that I would like to share with you. As of yesterday, all of our associates are now wearing face masks. Thank you to all of our guests who helped us bridge the gap while we built up our supply, and many thanks to all of you talented tailors who gave us some truly amazing creations. We have also begun taking each associate's temperature every day at the beginning of their shift. If one of our associates is running a fever (above 100°F), then they are sent home immediately (with pay) and cannot return back to work until they have been fever-free for three days. Early detection, social distancing, eating healthy, getting exercise and taking wise preventive measures will get us through this crisis the fastest!
That brings me to the newest protocol we will be implementing next week. Beginning Monday, April 13, we will require all Nugget Markets guests to wear a face mask or scarf that is covering both your nose and mouth while shopping. I know this might upset a few of you and I apologize in advance, but this will offer all of us the most protection! Extreme times call for extreme measures and I feel this is what's best to help curb the spread of the virus and protect us all. Here is a video from the Surgeon General on how to make a face covering, and remember, a scarf wrapped around your nose and mouth will work just fine. Please remember, right now our guests are highly encouraged to wear face masks, and starting Monday, April 13, they will be required to wear them to shop in our stores. Thank you again for your understanding.
With best wishes and high hopes,
Eric Stille
President/CEO
Nugget Market, Inc.
Press Contact
Nugget Market, Inc.
Media Relations

:

media@nuggetmarket.com