Newsroom resources for the news media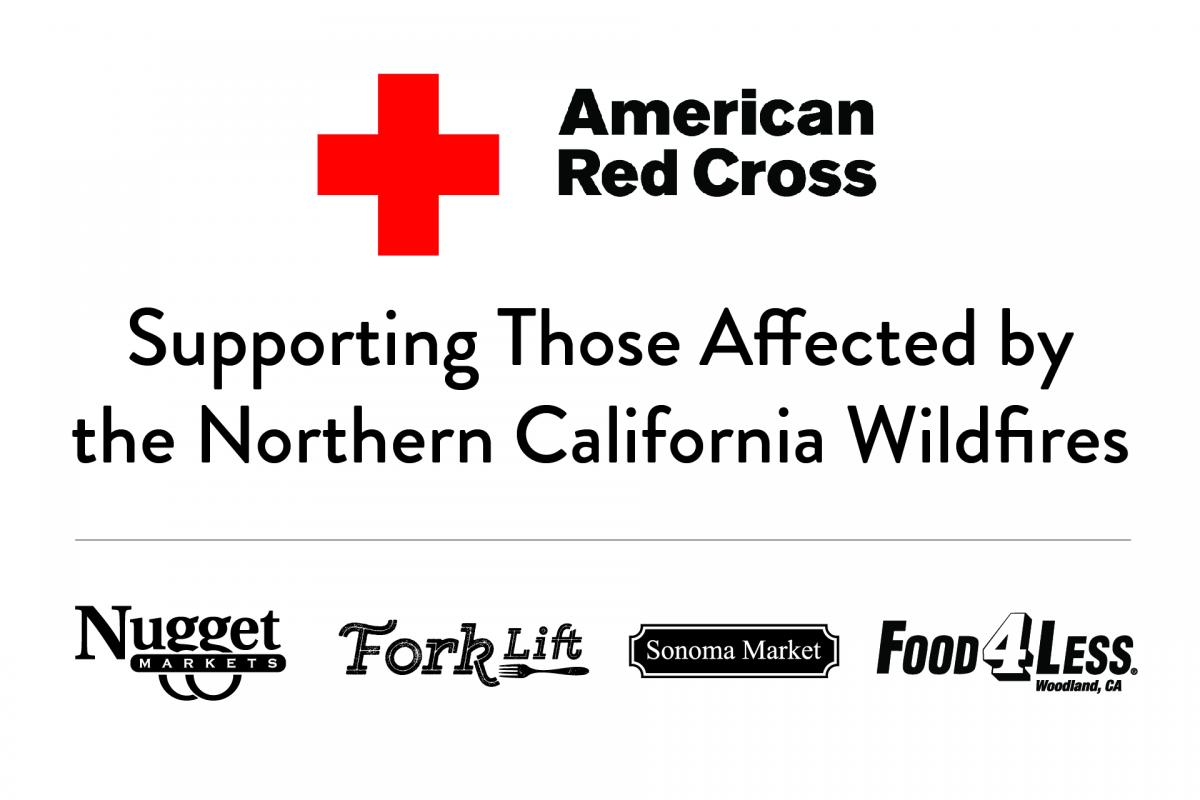 Press Release
Nugget Markets Matching Donations up to $25,000 for NorCal Wildfires
Davis, CA (August 25, 2020) – To help support the victims and first responders affected by the wildfires devastating our communities, Nugget Markets is launching a $25,000 matching fund drive at all of their store locations tonight. The matching fund drive will launch Tuesday, August 25, 2020 and last through Tuesday, September 15, 2020. 100% of funds raised will support the American Red Cross chapters in Northern California and their wildfire relief efforts.
"For years, we at Nugget Markets have been honored to help support the American Red Cross through thick and thin," said Kate Stille, Chief Impact Officer at Nugget Markets. "We are truly blessed to live and work in such amazing and generous communities, and we're humbled by this opportunity to partner with our guests to support our hurting neighbors and selfless heroes when they need it most."
Nugget Markets and the American Red Cross have been longstanding partners in serving the needs of local communities during times of disaster. Along with the matching fund drive to support those affected by the wildfires in Northern California, Nugget Markets also recently sponsored the American Red Cross' COVID-19 antibody testing initiative, which offers free antibody testing on all blood, platelet and plasma donations.
From wildfire and hurricane relief to the current battle against COVID-19, the American Red Cross makes it their mission to alleviate human suffering in the face of emergencies. Since July of this year, the organization has been offering much-needed support through shelter, meals and snacks, individual care, relief items and disaster workers.
To help support the American Red Cross' wildfire relief efforts, those who wish to double the impact of their donation need only visit their local Nugget Markets. Donations will be accepted at check stands (no purchase required) and matched up to $25,000 through September 15, 2020; details of the donation will be printed on a receipt. Donations will be forwarded directly to the American Red Cross, and enable the organization to prepare for, respond to and help people recover from these disasters.
Family owned and operated locally since 1926, Nugget Markets is a full-line grocery store that provides high-quality perishables, organics and a variety of local options, chef-prepared foods, specialty grocery items and conventional goods in a European marketplace setting. As a family-owned business, Nugget Markets is dedicated to taking care of its guests, associates and communities as a whole. The Nugget Market, Inc. family of stores includes 12 Nugget Markets in Northern California, Fork Lift by Nugget Markets in Cameron Park, Food 4 Less Woodland and Sonoma Market in Sonoma Valley.
Press Contact
Nugget Market, Inc.
Media Relations

:

media@nuggetmarket.com