Newsroom resources for the news media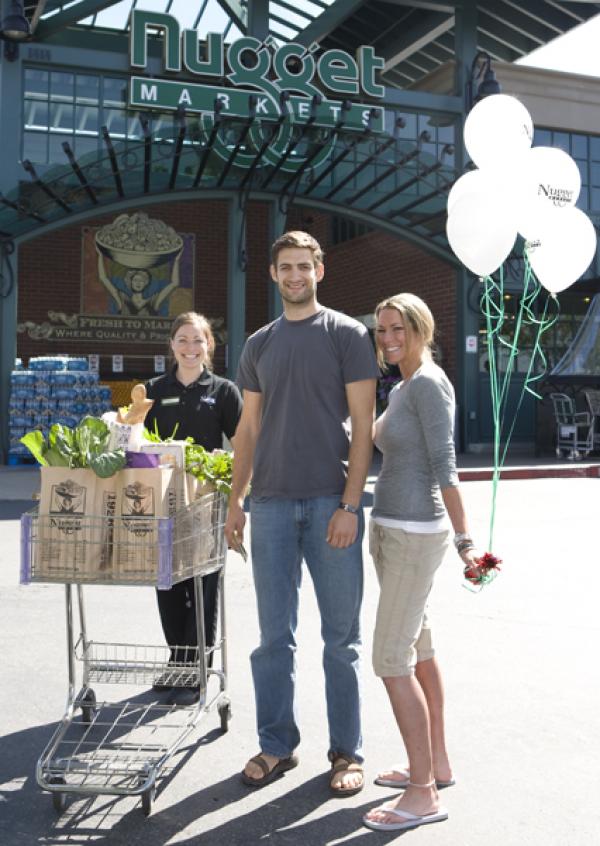 Press Release
Nugget Markets in Davis Announces $1,000 Price Survey Gift Card Winner
Nugget Markets guest Zachary Laudi of Davis completes Nugget's price survey and wins this month's $1,000 Nugget Markets gift card
Davis, CA – Nugget Markets in Davis announces this month's Nugget Markets Price Survey winner Zachary Laudi, who took the price survey and walked away with a $1,000 Nugget Markets gift card. Guests taking the price survey are automatically entered into the monthly drawing for a $1,000 Nugget Markets gift card. All guests are invited to take the survey, which compares Nugget Markets prices of 25 commonly purchased items to those prices offered by Nugget's competitors (Raley's,/Bel Air, and Safeway). In 8 out of 10 price comparison surveys, Nugget Markets beats Raley's/Bel Air and Safeway's prices. Price survey results are posted in each Nugget Market.
"We've been shopping at Nugget for awhile for the outstanding quality," says Zachary Laudi, who compared Nugget's prices to Safeway's prices. "After doing the price survey, we learned that in addition to being excellent in both service and quality, Nugget is also superior in price."
"All of us are thrilled that it's one of our guests who took the survey and ended up winning the big prize!" comments Dave Wilson, store director of the Nugget Markets on E.Covell Blvd. in Davis. "It's our true pleasure to serve Zachary and all our guests, as they really do mean the world to us."
For more information about taking the Nugget Markets Price Survey and the monthly $1,000 Nugget Markets gift card drawing, visit http://www.nuggetmarket.com or stop by any Nugget Market and ask an associate for details. For up-to-the-minute Nugget news, go to www.twitter.com/Nugget_Market. Visit Nugget Markets on facebook at www.facebook.com/nuggetmkts.
Press Contact
Nugget Market, Inc.
Media Relations

:

media@nuggetmarket.com