Ooni Pizza Oven Giveaway Sponsored by Fleischmann's Pizza Yeast
Enter to win an Ooni Karu 12 Multi-Fuel Pizza Oven courtesy of Fleischman's Pizza Yeast!
Looking to make the perfect pizza at home? Fleischmann's Pizza Yeast is cultivated specifically so you can make the perfect pizza crust in under 30 minutes, right in your very own kitchen! Whether you opt for thin, thick, or whole wheat crust—or even a calzone—the "pizzabilities" are endless with Fleischmann's Pizza Yeast! In collaboration with Fleischmann's, we are giving away 15 Ooni Pizza Ovens (1 per Nugget Market location), so enter now to win! Try out Fleischmann's Pizza Yeast and break in your Ooni Pizza Oven with one of Nugget Markets' signature pizza recipes!
How to Enter:
Click 'Enter Now' below and fill out the entry form provided.
Select your Nugget Market, Inc. location. (Note: There will be one winner per store. Only one entry and one location allowed per person; multiple entries across locations will be disqualified.)
Winners will be randomly selected on Friday, February 3, 2023 and notified through the contact information provided on the entry form.
Good luck and happy cooking!
The contest has ended

Sorry, we are no longer accepting entries.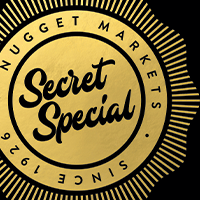 Get Notified
Sign up for our Fresh to Market newsletter to be notified when the next contest goes live!