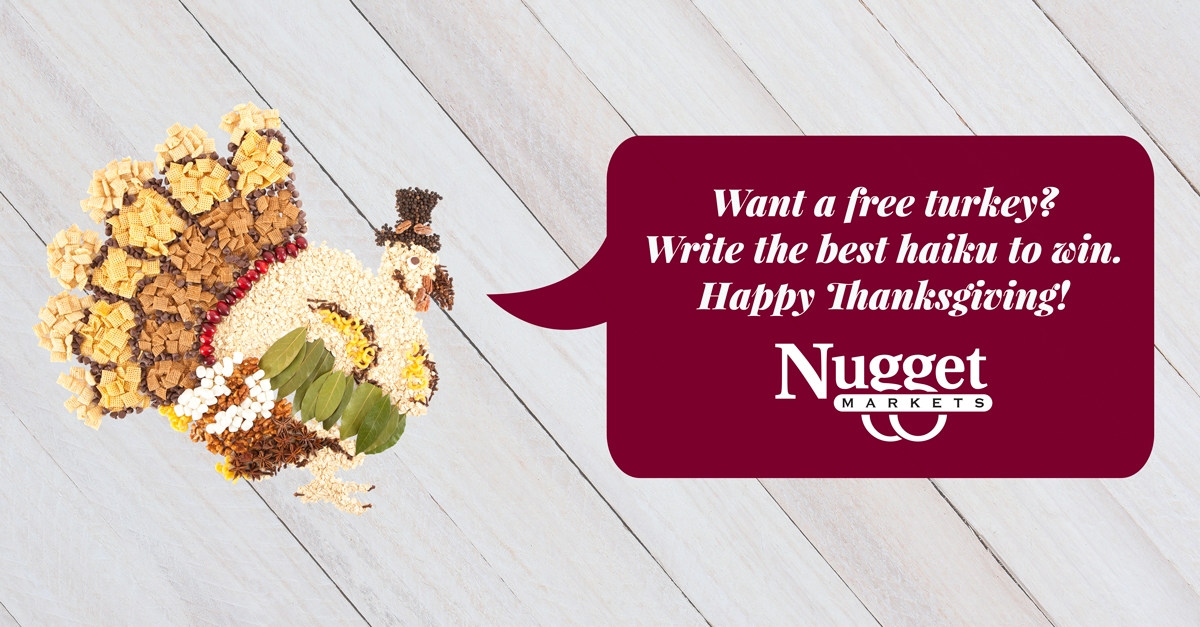 Channel your Thanksgiving spirit and write a Turkey Day Haiku for your chance to win big! Five lucky winners will receive a fresh, natural Diestel Turkey for their Turkey Day feast!
How to Enter:
Guests enter by commenting on Nugget Markets Facebook post with the Turkey Day Haiku prompt posted November 1, 2016. The Turkey Day Haiku prompt will be pinned to the top of the Nugget Markets Facebook timeline for the duration of the contest.
Entries will be judged by Nugget Markets Marketing Dept. Standards include: must be wholly original and written by entrant; must meet standard haiku structure: three lines totaling 17 syllables throughout (The first line is 5 syllables, the second line is 7 syllables and the third line is 5 syllables). Punctuation and capitalization rules are up to the poet and need not follow rigid rules used in structuring sentences. The Haiku does not have to rhyme. The Haiku can include the repetition of words or sounds.
Must be creative and in the spirit of Thanksgiving.
Only one (1) Haiku per person allowed.
Winner will be notified through Facebook Direct Message by November 18, 2016.
The contest has ended

Sorry, we are no longer accepting entries.