Daily Dish the Nugget Markets blog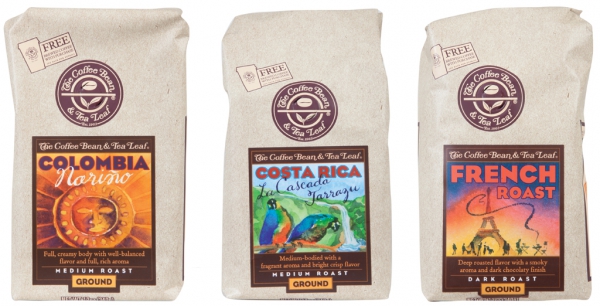 The Coffee Bean & Tea Leaf
Have you ever wondered where coffee gets its flavor? Does the origin of the bean or the length of time a bean is roasted affect the flavor of your coffee? The answer is both! The origin characteristics usually influence the look, taste and smell of the coffee, while the roast degree affects the flavor intensity: as the beans caramelize throughout the roasting process, the origin characters of the beans are muted and new aromas are developed.
For both flavor and aroma, we love coffees from The Coffee Bean & Tea Leaf. This California-based company imports whole-bean, single-origin coffee from small private estates throughout East Africa, Latin America and the Pacific. They purchase only the best beans available, and they go to great heights to do so — litera lly! All beans purchased by TCBTL are grown at altitudes up to 6,000 feet. Try these delicious flavors:
The Colombia, like most South American coffees, is known for its well-balanced flavor and soft, creamy body. Its slightly darker roast leads the beans to have a full, ric h aroma. The beans in this coffee come from Narino, a state in Southern Colombia. They are grown surrounding active volcanoes, on slopes that rise very high!
The Costa Rica is grown in the Tarrazu region of Costa Rica, where 300 small farmers contribute 100 percent of their fruit exclusively to TCBTL. Like other coffees grown in Central America, this is a bright coffee with a crisp flavor that is complemented by a fragrant aroma. Its roast lends to the rich, smooth taste of this medium-bodied coffee.
The House Blend is a combination of Central and South American coffees — specifically comprised of beans from Costa Rica, Colombia and Brazil. It's light-bodied with a subtle fruity aroma and a buttery finish.
The French Roast and Whole Espresso beans are both composed primarily of Costa Rican beans, but also have hints of Guatemalan, Papua New Guine an and Sumatran beans. Both the French Roast and Espresso roast are velvety wit h a caramel aroma,earthy flavor and a bittersweet finish. These flavors are delicious w hen used to make anything from drip coffee to an espresso shot and they pair well with a sweet morning treat!
The Viennese Blend is calling your name if you like a medium-bodied cof fee that has a rich aroma, full flavor and hints of chocolate. This dark blend contains beans from Costa Rica and Brazil and is a great all-purpose dark blend tha t pairs well with blueberries and cherries or chocolate chip cookies. • Stephanie Stille, Specialty & Ethnic Foods