Daily Dish the Nugget Markets blog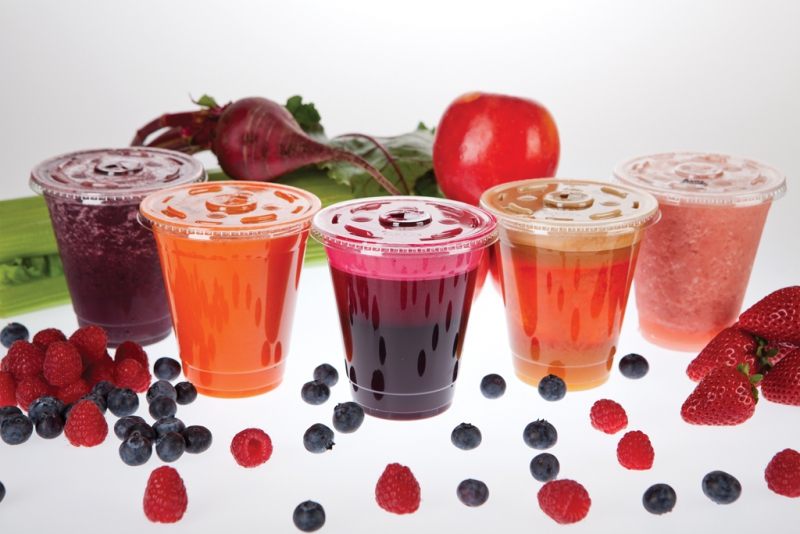 Spring has definitely sprung, and we're well on our way to summer—and if that means one thing for our Coffee & Juice Bars, it's that some of the best produce is now in season and waiting to be turned into delicious, healthful juices! Check out Dr. Liz's Health Notes to see just how good for you freshly squeezed juice can be, and try out your favorite combination next time you're in our stores! • Tammy Campbell (Coffee & Juice Bar)
Health Note from Dr. Liz:
"Drinking fresh fruit and vegetable juices makes for a refreshing and nutritious way to get some of your daily produce servings. Veggies and fruit are over 80 percent water and when pressed through a juicer, the strained liquid contains much of the vitamin, mineral and phytonutrient goodness from the fresh produce. Juicers strain out the fibrous material (skins and seeds), so remember to eat whole fruits and veggies as well to meet your fiber needs. Check out the health–boosting benefits of these featured juices at the Coffee & Juice Bar."
Beet Juice
Owes its bright red color to betacyanin, which acts as a potent cancer fighter. Beet juice also contains nitrate, which studies show helps boost blood flow and may have benefits in lowering blood pressure.
Strawberry Juice
A cup of this juice supplies a whopping 100 percent of the Daily Value for vitamin C, a potent antioxidant, and the phytonutrient ellagic acid, known for its cancer–fighting power.
Raspberry Juice
This luscious juice supplies over 50 percent of the Daily Value for vitamin C along with the minerals manganese and potassium needed for heart health.
Blueberry Juice
Anthocyanidins, a powerful group of antioxidants, abound in this juice, which may help ward off many age–related diseases related to oxidative damage, such as cancer and heart disease.
Celery Juice
Very low in calories, celery juice contains phthalides that studies show helps lower blood pressure by relaxing artery walls.
Apple Juice
Fresh, unfiltered apple juice contains quercetin, which helps support immune strength. Apple juice also supplies a wealth of potassium for healthy blood pressure.