Daily Dish
&

What we are doing for you!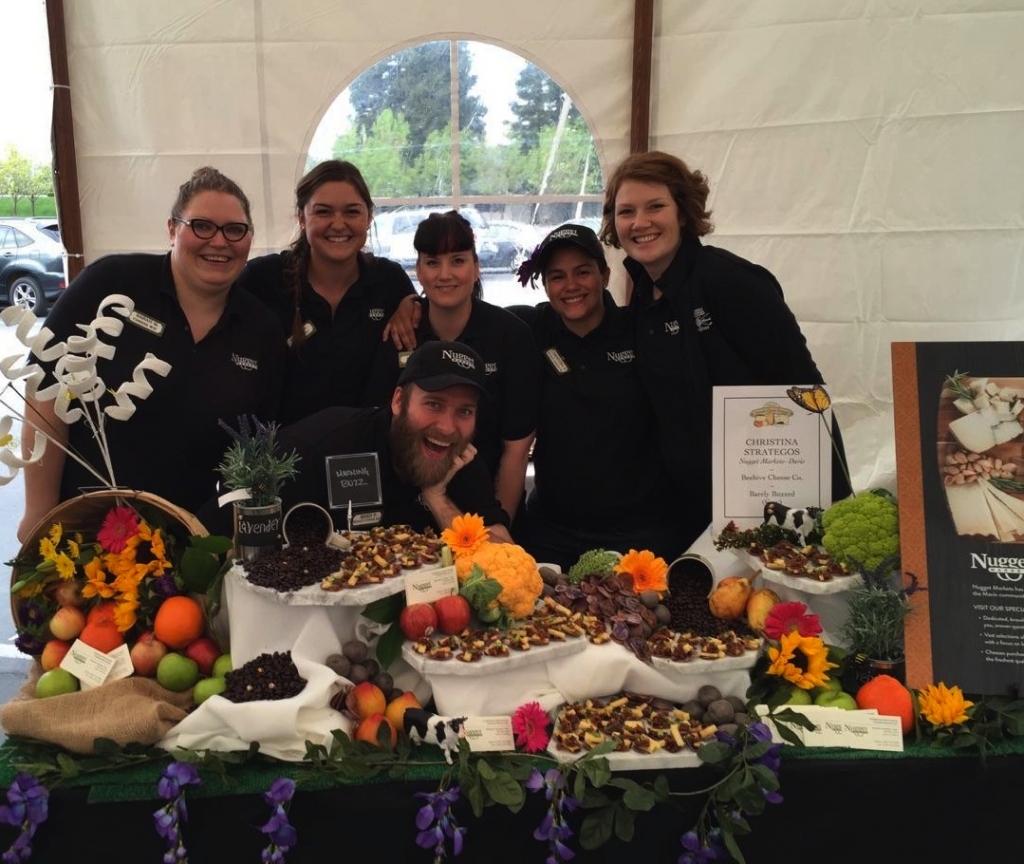 Cheesemonger's Duel
Our teams of cheese specialists came out with both butterfat barrels a-blazin' at this year's California Artisan Cheese Festival in Petaluma
Our three teams of specialty cheese associates created amazing bites for the Cheesemonger's Duel at the California Artisan Cheese Festival. Our teams treated attendees to delectible tastes such as "Redwood Hill Farms Smokin' Goat Apple Pie," "Morning Buzz," and "Aprilicious Chocopricous."
The 9th Annual California Artisan Cheese Festival features a fabulous program of fun and educational events attracting thousands of cheese enthusiasts to Petaluma. Part of the festivities include the lighthearted Cheesemonger's Duel, and our teams of cheese specialists came out with butterfat barrels a-blazin'!
Each cheesemonger had two hours to prep 250 "perfect bites" and each cheese expert was informed of their randomly selected cheese 10 days prior to the event. Competitors received their cheeses upon arrival to the festival, and all were brought up on stage to present their bite, suggest a beer or wine pairing and share a little bit about themselves. Our own Sarah Quinliven brought down the house with her personality and was even called back onstage, as the audience simply fell in love with her!
Crowd favorite Sarah Quinliven (cheese specialist at our Florin Rd. store) created "Redwood Hill Farms Smokin' Goat Apple Pie" made with a phyllo shell, homeade apple pie filling, coconut bacon, pickled ginger and local Redwood Hill Farms Smoked Goat Cheddar. She took her inspiration from the classic pairing of cheddar and apple pie but put her own unique spin on it. She was assisted by Jaclyn Neff, cheese specialist from our Vacaville store.
Christina Strategos, from our Mace Blvd. store in Davis, wowed the crowd with her "Morning Buzz" bite, made with homemade purple passion potato chips, bacon gliter, Barely Buzzed (a cheddar rubbed in espresso and lavender honey) topped with a green onion. She took her inspiration from classic breakfast foods like coffee and potatoes. Christina was assisted by Emily Ayer, our Davis Covell cheese specialist.

El Dorado Hills cheese specialist Reed Pattison's bite was "Aprilicious Chocopricous" and used Capricious (local goat cheese) on top of a chocolate covered potato chip, spread with Earth and Vine's Apricot Chili Jam and topped with Capricious. The cheesemaker that makes Capricious stopped by Reed's table and complimented his pairing by telling him that he did a great job highlighting the flavors of the cheese. Rebekah Baker, our specialty cheese buyer, assisted Reed.
A fun and glorious time was had by all, and hats off to our teams of cheese specialists, who have shared their expertise and love of cheese with so many at this year's festival.