Daily Dish the Nugget Markets blog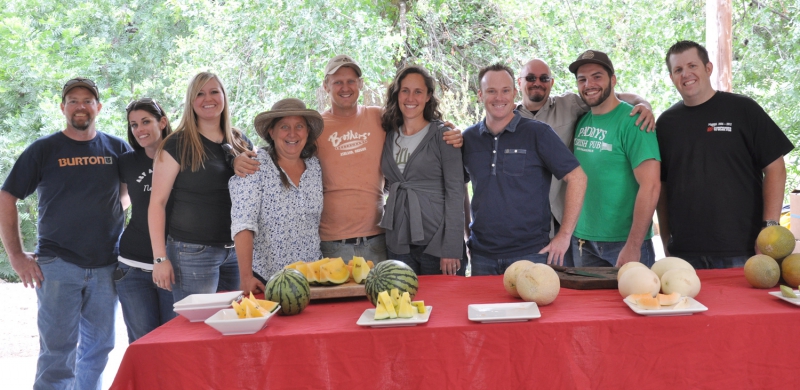 Down on the Farm
Full Belly Farm Tour
Nugget Markets' produce managers and buyers just got back from a fun-filled trip to visit our friends at Full Belly Farm in the Capay Valley. While on our visit, we learned all about the 300-acre farm that has been growing organically for more than 28 years. Fully Belly Farm is family owned and operated, and their tender love and care shows in their delicious products. Dru Rivers, one of the founders of the farm, shared their passion for not only growing food, but also growing farmers. While the concept sounded a bit strange at first, Dru explained that Fully Belly Farm offers an internship to students who are interested in starting their own farms. Full Belly's internship program has grown more than 100 farmers, resulting in more than 100 new organic farms across our country.
Our tour began in the beautiful flower fields—a fairly new addition to the farm, but one of Dru's most prized additions. At first I didn't see or understand the value or importance of growing flowers organically; after all, you're not consuming them. Dru explained that growing flowers organically not only impacts the land, but it's also creates safer work environment for the farmers. Dru also reminded us that you are still bringing the flowers into your home and often right into your kitchen, the value of clean, organic flowers was made quite evident.
Next we hopped on a tractor-trailer and rode around the farm. We passed by fields of watermelons, table grapes, heirloom tomatoes, and many other delicious fruits and veggies. We spotted several fields of what looked like clover. When questioned, Dru explained that between crops they plant what they call a "cover crop" that they till back into the land. This process enriches the soil and provides the next crop with vital nutrients. Full Belly gets no financial return from planting this cover crop, but by doing this they produce a much better crop for us as consumers to enjoy.
We concluded our tour by visiting the newest members of the farm, namely day-old goats—or "kids"—and eight new piglets. We had an absolute blast and greatly enjoyed learning about the benefits of organic farming. This summer, look for Fully Belly's sign in our produce department on items like flowers, melons, heirloom tomatoes and much more!

- Danielle DeBow, Marketing and Communication Manager