Recipes Nugget Markets Signature Recipes
Grilled Turkey, Select Parts
Prep time

30 minutes

PT30M
Cook time

45 minutes to 1 hour

PT0.75M
Yield

Serves 4
Difficulty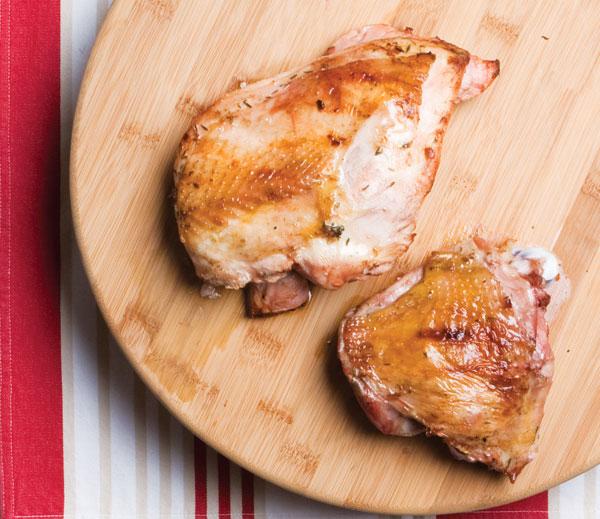 Ingredients
1 boneless, skin-on turkey breast
1 bone-in, skin-on turkey thigh
½ recipe Nuggets Signature Brine
Preparation
Brine the turkey parts for 1 1/2 to 2 hours.
Preheat the grill to medium over indirect heat.
Take the turkey parts out of the brine and pat very dry. Oil the grill and place the parts over direct heat, skin side down to brown the skin. This should take 5 to 7 minutes. When the skin is crispy and golden brown, flip the turkey onto the other side and place it on the unheated portion of the grill. When the internal temperature of the turkey reaches 165° F, this will take 45 minutes to 1 hour, take them off and let them rest for 15 to 20 minutes before serving.
Techniques used in this recipe:
direct heat

direct heat: a method of heat transfer in which heat waves radiate from a source (for example, an open burner or grill) and travel directly to the item being heated with no conductor between heat source and food. Examples are grilling, broiling, and toasting.

grill (I)

grill (I): a cooking technique in which foods are cooked by a radiant heat source placed below the food.
Videos
Let our Executive Chef show you a fun alternative to roasting your turkey this holiday.