Recipes Nugget Markets Signature Recipes
Crooked Neck Squash Soup with Chevre & Tarragon Oil
Prep time

20 minutes

PT20M
Cook time

20-25 minutes

PT25M
Yield

Serves 4-5
Difficulty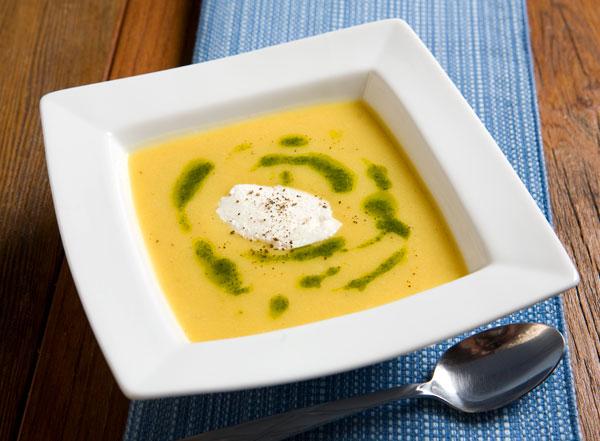 The taste of California Farmers Markets in one simple squash soup – perfect for a light bite on the patio with a cool glass of medium-bodied white wine, such as Chardonnay, Chenin Blanc or Pinot Gris, and the company of good friends.
Ingredients
Soup:
2½ lbs. crooked neck squash (may substitute sunburst, patty pan or zucchini)
1 quart chicken or vegetable broth
2 medium-sized garlic cloves
Kosher or sea salt and cracked black pepper to taste
Tarragon Oil:
¾ cup fresh tarragon leaves (about 1 bunch)
¼ cup fresh dill
1 tablespoon lemon juice
¾ cup olive oil
½ cup salad oil
½ teaspoon kosher or sea salt
Reserve a few leaves of tarragon for garnish
4 oz. fresh Chevre, crumbled
Preparation
Remove tips from squash, chop coarse and combine in medium-sized pot with chicken broth and garlic cloves. Bring to a boil, then reduce heat and gently simmer 20-25 minutes until squash is very tender. Transfer mixture to blender (cover lid with a clean kitchen towel to avoid being burned by hot soup); purée until smooth. Return soup to stovetop over very low heat. Season to taste with salt and pepper.
While squash is simmering, combine tarragon oil ingredients in blender and purée for 1 minute; transfer to a small bowl or squeeze bottle. Extra oil will keep in refrigerator for up to 3 days. Use it as a garnish for grilled seafood or create a light and delicious appetizer by pouring oil directly over 8 oz. of fresh Chevre or farmers cheese. Serve cheese with crackers or a fresh sliced Rustic Baguette from Nugget Market.
Divide soup evenly between bowls; drizzle tarragon oil in a circular pattern, finishing each bowl with 1½ tablespoons of Chevre dropped into the center. Garnish with reserved tarragon leaves and serve!
Techniques used in this recipe:
chop (I)

chop (I): to cut into pieces of roughly the same size.
Glossary:
broth

A flavorful, aromatic liquid made by simmering water or stock with meat, vegetables, and/or spices and herbs.

dill weed

Commonly referred to as dill the plant is tall and wispy normally attaining a height of 3 to 6 feet. The plant is bright green in color and speckled with yellow blossoms. Dill has a delightful, delicate bouquet and enhances rather than dominates food.

It is ideal for sauces and seafood and also compliments egg, cheeses, and salads.
Pair with
Chardonnay

A classic white wine made famous in Burgundy, France, it's now grown all over the world. It takes oak well and is often fermented and aged in oak barrels. Full bodied, with rich flavors of vanilla, butter, green apple and tropical fruit (banana, pineapple).

Pinot Gris

An ancient natural mutation of Pinot Noir, Pinot Gris can vary dramatically in taste depending on where it is grown. In the Tre Venezie in Italy, where it is known as Pinot Grigio, it is often a simple, light, crisp wine. However, Italian Pinot Grigio shows little similarity to the majestic, lavish, sometimes spicy Pinot Gris of Alsace. The aromas of Pinot Gris suggest peach skins or orange rind. Pinot Grigio is currently the best-selling imported wine in the United States, and it's fun to say too!

Chenin Blanc

Commonly grown in the Loire Valley of France, as well as in California. A high-volume-producing vine that gives birth to fragrant and usually high-acid wines ranging from dry to medium sweet. Known as Steen in South Africa.