Recipes Nugget Markets Signature Recipes
Cooking Tips for a Perfect Standing Rib Roast
Cooking Tips for a Perfect Standing Rib Roast
Prep time

10 minutes, plus 2 hour resting

PT0.16666666666667M
Cook time

15 to 17 minutes per pound

PT15M
Yield
Difficulty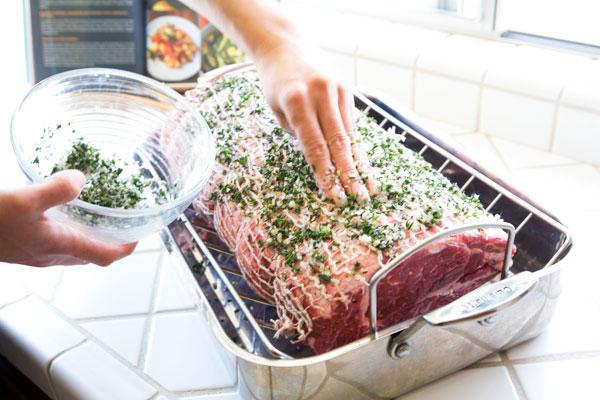 Whether it's slow-roasted in an oven or cooked over hot coals, Rib Roast is never complete without horseradish and a little au jus. Horseradish makes a perfect finish for your roast, whether you lean toward a prepared, creamy style (often not too hot on the palate), or you prefer a freshly grated, sinus-blowing experience. Use the drippings from your roasting pan — make sure you scrape up all the little bits of rosemary and garlic that have accumulated — and a little water to make a flavorful jus. You can also throw in a couple of the bones for added flavor and richness to finish the sauce while your roast rests. If you would rather eliminate this step, we recommend trying out Johnny's French Dip Au Jus. Happy roasting!
Ingredients
A combination of fresh flavors, such as fresh chopped garlic and rosemary leaves
Kosher or sea salt and cracked black pepper to taste
Preparation
Cooking Tips:
Leave the roast cradled on the bone and in the net. Our rib roasts are ready to cook: no trimming necessary and no need for a roasting rack!
Massage seasonings (we suggest simple, fresh flavors such as fresh garlic, rosemary leaves, sea salt and cracked black pepper) all over the roast to form a thin "crust".
After seasoning your roast, allow it to come to room temperature, about 2 hours, before placing it in the oven; this helps the roast cook evenly.
Estimate about 15-17 minutes per pound — the end cuts will be cooked to medium and the center rare. Always use a meat thermometer to ensure the roast has met your goal temperature! Digital read thermometers are the best and most accurate.
Internal Temperature Guide:
a. Rare begins at 120°F
b. 125°F to 130°F for medium-rare
c. 140°F for medium
If cooking your roast on an outside grill, either charcoal or gas, use an indirect heating method (the roast should not be placed directly over coals or flame, but off to the side).
Cooking Method:
Set oven temperature to 450ºF. Roast meat for 15 minutes (to sear the outside). Reduce oven temperature to 325ºF; continue roasting for the appropriate time based upon the weight of the roast. Baste with drippings every ½ hour. Check internal temperature with a meat thermometer approximately 30-45 minutes before estimated end of cooking time.
Always allow roast to stand 20-30 minutes, tented with aluminum foil, before carving. Internal temperature will raise another 5-10°F while the roast rests.
Perfect and traditional accompaniments – Inter Mountain Horseradish and Johnny's French Dip Au Jus.
Pair with
Zinfandel

Zinfandel is a mouthfilling, dry red wine packed with jammy blackberry, boysenberry and plummy fruit flavors. It can be quite thick, chewy and extremely dark in color.

Petit Verdot

A Bordeaux grape traditionally blended with Merlot and Cabernet Sauvignon for spice, depth and color.

Merlot

This wine is deep in color, high in alcohol, and low in tannin. The Bordeaux Merlot variety is very similar to Cabernet Sauvignon, but softer because it is less tannic. Merlot has aromas and flavors that include blackberry, cassis, baked cherries, plums, chocolate and mocha ... some suggest tea leaves.

Malbec

Malbec primarily comes from Argentina, where it is the source of most of the best red wines. It is a soft, juicy, low-acid grape. Also known in Cahors, France, as Cot and Auxerrois.

Cabernet Sauvignon

The premier red grape varietal in the world! From Bordeaux to Napa, it produces distinctive wines that are tannic, with long aging potential. Dark cherry, cedar, tobacco and black currant are common flavor descriptors.