Recipes Nugget Markets Signature Recipes
Hoisin Glazed Pork Spareribs
Prep time

5 minutes

PT5M
Cook time

3 hours

PT3H
Yield

Serves 4
Difficulty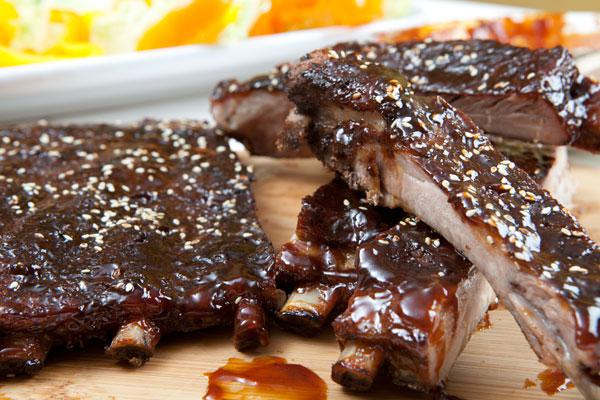 It's BBQ season!!! This dish represents a departure from your standard BBQ sauce on ribs and is full of Asian flavors. The trick is to cook the ribs wrapped tightly in foil so they are tender and juicy, and then finish them off on a hot grill to get that smoky caramelization.
Ingredients
1 rack pork spareribs, membrane removed
¼ cup Chinese Five Spice
1 tablespoon granulated garlic
1 tablespoon kosher salt
1, 8.5 ounce jar Hoisin sauce
2 tablespoons Mirin cooking wine
2 teaspoons toasted sesame oil
1 tablespoon white sesame seeds (for garnish)
Preparation
Preheat the oven to 300 degrees F.
Rub the ribs all over with the Five Spice, garlic, and salt. Wrap tightly in heavy duty aluminum foil and bake on a sheet pan for 2 1/2 hours.
After about 2 hours preheat the grill to medium–high. Mix the hoisin, mirin, and sesame oil in a small bowl and set aside.
Sear the ribs on the grill on both sides for 8-10 minutes per side. Move to a cooler part of the grill (if working with gas simply turn off one of the burners and move the ribs to an unheated part. If working with coals brush some of the coals to one side and place the ribs over the unheated portion). Brush liberally on both sides with the glaze. Cover and allow to cook for 10 minutes. Re- glaze and allow to cook for 5 more minutes. Slather the ribs with sauce one final time and take off the heat. Allow to rest for 30 minutes before slicing.
Techniques used in this recipe:
grill (I)

grill (I): a cooking technique in which foods are cooked by a radiant heat source placed below the food.

sear

sear: to brown the surface of food in fat over high heat before finishing by another method (for example, braising) in order to add flavor.